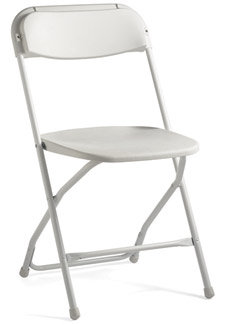 Chairs - White Folding Chair (Plastic & Metal)
Actual Size: 18D x 17.5W x 31.5H




Introducing our White Folding Chair, the perfect seating solution for any event or occasion. Made from a sturdy combination of plastic and metal, this chair is both durable and lightweight, making it easy to transport and set up.
The sleek white design adds a touch of elegance to any setting, while the folding feature allows for easy storage when not in use. Whether you're hosting a wedding, party, or business event, these chairs are an excellent choice for both indoor and outdoor use. With a comfortable seat and backrest, your guests will be able to enjoy their time without feeling uncomfortable or cramped. Plus, the chair's simple design makes it easy to decorate with cushions or covers to match any theme or color scheme. Rent our White Folding Chairs today and elevate the seating experience at your next event.
Note: every effort is made to keep our chair inventory in great rental condition, with that in mind, rental items are not new and may have some minor scuffs and wear. Help us keep our equipment in great shape by using items as intended, stacking equipment as designed, and returning equipment in the same condition as received.
Free 25 Mile Delivery Of In-Stock Items

Delivery Day, Event Day, Pickup Day Rental Standard.

Same Day Rental Also available

Tailgate drop off at no extra charge.

Setup and Tear Down available for $1.00 ($.50 set up/$.50 tear-down) per chair.

650 lb limit per chair

Metal frame / Plastic Seat & Backrest